College life is generally described as fun as students get to create new friends and networks. However, college life for some students is a challenge especially on the back of limited cash. For many new college students, it will be the first time they are living independently away from the care and responsibility of their parents. Students in college will be undertaking grocery shopping for the first time ever.
Students have to fend for themselves and as such have to budget for the little money that they have. College students can get along their busy school schedules without having to spend excessively on food at on-campus food/eating places or having to skip meals with a basic grocery list. Even with limited cash, it is possible to eat adequately and in a healthy way through grocery shopping.
Your best solution lies in meal prepping which calls for having a grocery shopping list and preparing your own meals. It is often a big learning curve for many students who have been eating meals prepared by their parents at home. Students can still budget their little cash, get a list of groceries, visit a grocery store, and proceed to cook healthy meals.
With a good grocery list, you can enjoy a variety of healthy meals. Feeding yourself should not be an impossible task with good planning of your grocery list and a budget. College students should go for inexpensive ingredients that are healthy food choices and which will last for a long period and where possible cover the semester at any one given time. The following grocery list is best suited for college students without having to break the bank.
What is a Basic Grocery List?
The following list of ingredients meet the needs of a student and their use will aid in making meals that are healthy, affordable, and satiating. Included are also ingredients that you can use to make healthy snacks.
Grains and Carbohydrates List
Make sure to include the following carbohydrates, grains, and snacks options also in your college grocery list:
Baked Beans
Barley
Brown Rice
Buckwheat
Chickpeas
Couscous
Oatmeal
Quinoa
Red Kidney Beans
Sweet Potatoes
White Beans
Whole-wheat Bread and Pasta
Proteins and Dairy List
Make sure to include the following proteins and dairy products in your college grocery list and save money.
Butter
Cheese
Chicken
Eggs
Milk
Turkey
Yogurt (good for snacks)
Vegetable List
Make sure to include the following vegetables in your college grocery list and save money.
Avocados
Carrots
Frozen Chopped Vegetables e.g. broccoli, lettuce and baby corn
Garlic
Kales
Onions/Scallions
Peas
Potatoes
Spinach
Sweetcorn
Tomatoes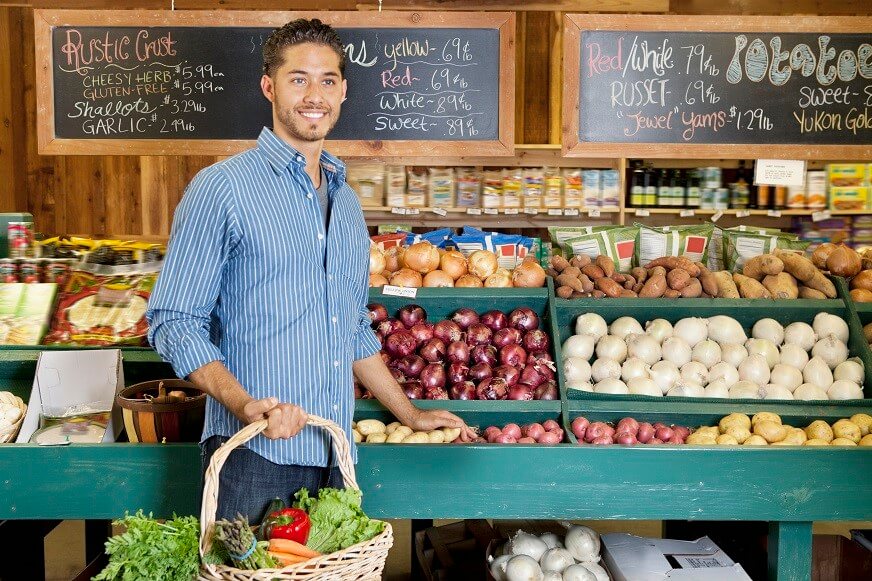 Fruits and Nuts List
Make sure to include the following fruits and nuts in your college grocery list and save money.
Almonds
Apples
Cashew Nuts
Dried Fruit
Frozen Fruit
Raisins
Walnuts
List of Spices and Other Ingredients
Make sure to include the following spices and condiments in your college grocery list and save money.
Baking Soda
Basil
Black pepper
Chili powder
Olive Oil
Oregano
Peanut Butter
Salt
Stock Cubes
Vegetable Oil
Vinegar
Why the Meal Plan?
Students have limited cash especially those entirely reliant on loans to see them through their years in college. Many students in college are surprised at how fast money is utilized once it hits their bank accounts. You have rent to pay, school fees, books and stationery to buy, food, bills to meet, and many other expenses. It leaves them with little or no money towards the end of the semester to eat and meet other basic needs. It helps to save and lead a frugal life if you can make a cheap but healthy college grocery list.
How to Budget for Groceries
It may not be easy to put down a figure for a budget. The budget for a grocery list will be dependent on dietary and living requirements. Different cities have different living standards based on the prices of basic commodities including groceries. Students who have special dietary considerations such as those who are gluten intolerant may spend a little more money. Vegetarians may spend less compared to students who eat meat that is more expensive.
How much does a college student need for groceries?
To have a good idea of how much to spend on groceries, check with your college for guidelines and advice on the average amount to be set aside for your college grocery budget. You can get the best information and estimates of groceries at local cost and depending on the season. Using the solicited information, cash-strapped students can then work around their dietary requirements to come up with an exhaustive grocery list to last them a long time.
Quick but Satiating Meals
The typical day at college will start at eight in the morning and end at five in the evening. College students need healthy and filling meals to help them tackle long days full of learning and keep healthy. The long days are associated with hunger and fatigue which may hamper the ability to learn and may keep students tired, distracted and unmotivated.
A college student does not have plenty of time to conjure up a complex meal neither do they have plenty of time to sit and devour a plateful at breakfast, lunch or dinner time. Also, keeping to the created college grocery list will facilitate the making of simple, healthy meals.
When preparing their grocery list, a college student should take into account healthy ingredients that will be filling and provide essential nutrients when prepared into a meal such as a peanut butter. The ingredients should be easy to prepare and cook in line with the fast life of a student.
Meal Prep: Better to Cook for Four or More
Although you are just cooking your own food, cooking for one usually takes more time than cooking for four or more people. A college student can save precious time by using a recipe for four or more people when preparing meals. The extra portions of foods can be frozen or refrigerated to be consumed over the next few days. Ensure that you have food containers to help store away the extra portions of food in your refrigerator. You will be retrieving a food container, defrosting your food and warming it up to enjoy a meal. Keep in mind that not all foods are suited for freezing such as cooked pasta which becomes mushy and tasteless when defrosted and warmed.
When Is the Best Time to Shop for Groceries?
A college student should check for those periods when items go on sale or when prices are reduced at your local supermarket to buy items on their college grocery list. Also, a college student can get good value for money by noting trends at your local store and taking advantage of price reductions such as towards close of business and other sales drives to buy your grocery list.
However, exercise a lot of caution because price reductions do not necessarily mean that it is the cheapest option. Also, some usual ingredients on your grocery list might be cheaper at full price compared to a reduced price premium ingredient. Secondly, desist from purchasing items randomly just because they are found at the reduced price section and it doesn't feature on your grocery list. It is not the best way to stay within your budget and plan your meals. You may also end up buying groceries that just sit and go bad on a shelf or in the fridge.
College students should strictly follow their budgeted meal plan by going for exactly what they need on their grocery list. Plan the visits to the store such as when there are reductions and make good use of your time and money to buy grocery list items.
Some Healthy Recipes Using the Shopping List Grocery
Your diet should always be healthy to support your body and brain when studying and engaging in other physical activities. Using the comprehensive groceries list for college students provided, you are in a position to keep making simple but highly nutritious meals. The simple meals will not take so much of their time in preparation and cooking procedures meaning that there are no major interruptions to their schedules. The following are simple meals to try out from the ingredients gotten from your student shopping list.
Breakfast: You make the foll
Scrambled Eggs + Fried Vegetables + Coffee/Tea
Oatmeal + Blueberries + Greek Yogurt
Lunch / Dinner
Lemon Pepper Chicken + Rice
Cooked Chicken Breast + Steamed Vegetables + Butter Rice
Baked Sweet potatoes with butter + Broccoli + Chicken
Turkey + Vegetable Rice
Vegetable Wrap (Steam Sliced Vegetables with Butter)
Snacks
Spinach Salad + Raisins
Raisins + Nuts
DIY Salads – Use available vegetables
Smoothies
Whole-wheat bread with peanut butter
Post Shopping for Your Groceries
What every college student should have in their fridge?
• Freeze all items that need to be stored away and stopped from going bad. For example, meats can be portioned into sizes/amounts that are used for a single meal, wrapped in cellophane, and labeled with the date it was frozen. Labeling allows you to use those items that have stayed longer in the freezer.
• Organize the pantry and refrigerator for ease of access when preparing meals. A disorganized pantry/fridge will come in the way of preparing your meals especially if you cannot ascertain the availability of specific ingredients. Regularly going through the contents of your pantry will help keep you aware of items you are depleting and even with getting ideas on what to cook if some items have not been used in a long time.
• Finally, establish a system to help with knowing what to buy when and in meal prep. You will know what you need on a weekly basis and what can wait until the next major shopping trip. With such a system, you can also take advantage of coupons and other reward systems made available at the local supermarket or grocery store. It will be an easy way to make savings at every grocery shopping trip and still enjoy healthy meals that meet your day to day nutritional needs.